Hello,
I live in Vista, California, San Diego County. I've always been a MOPAR fan. Was crushed when Dad sold his 56 Plymouth before I turned 16. It was a 3 speed column shift with a little V-8. I had planned for a color change to orange and some other dramatic changes I don't remember any more. It was a Pennsylvania rust bucket. I think he got $50 for it. That was about 1968. My first car in 1971 was a 1949 Plymouth, Special Deluxe, Club Coupe. It was a one owner car. It came with the original sales papers. I think the list price was about $1600. I bought it for $115. It was a beautiful shiny black car with great chrome and the painted wood grain dashboard. Had a working AM radio and original upholstery. It was missing the passenger side rear fender. It had fallen off while the owner was driving due to salt induced rust. She said she heard a clunk but didn't know what it was. The front seat was also kind of falling through the floor. A perfect car for High School driver. Next Mopar was a 1951 Plymouth Cranbrook. This was a real nice rust free 4 door but smoked and needed rings. After that I went with a 1954 Chrysler New Yorker with the little hemi and 2 speed fluid drive. I then dabbled with a 1960 "Bugeye" sprite and a 1967 BMW 1600. These were followed by a 1948 Studebaker Pickup, model M-15A. I kept that truck for 35 years. Sold it about 5 years ago to an organic farmer in New York. It had been my wheels west to California after graduating from college at Penn State. I built a little wooden house on the back and loaded in all my worldly possessions. It was a great truck. Studebaker's pre-war design with a 169 cid flat head 6 and a 4 speed. I could run it on the freeways at 55 mph all day long. It had a full 4x8 foot all steel bed. I had gotten complacent after 35 years and thought I needed something newer. I bought a 1994 Dodge 3/4 ton with the Cummins Diesel. That broke down in De Moine, Iowa while pulling a 1938 Farmall F-20 on a flat bed trailer. The piss poor local Dodge dealer looked at it and told me I probably broke the cranksahft. They would evaluate it for $1800. Repairs could be $4000 more. I left it there and continued my trip with a Penske Rental. Sold the truck on Ebay for parts. New owner reported The flex plate between the flywheel and torque converter cracked He replaced it and the rear main seal and was back trucking in no time. I had a series of Chrysler Imperials. A 1959, 1962, 1964, 1965 convertible, 1966 and a 1968. Bought a 2001 Ram 2500 crew cab with the Cummins Turbo Diesel. Keep it about 3 years. Made 3 cross country trips with that. BUT, I missed the old Studebaker truck and started looking for something to replace it. Found a one owner 1951 Dodge 3/4 ton Express in Washington state. It was super original and rust free. I have that truck now. Then a 1946 1 1/2 ton farm truck came up on Ebay. I couldn't live without that one and bought it too. It's also one owner. The seller remembers his Dad proudly driving the truck onto the Nebraska Farm new in 1946. I do all my own work. None of my vehicles are show cars. I keep them original and keep them running. Try to sell them in better shape then I got them in. I'm retired. Nothing is a hurry.



Posts

: 6


Join date

: 2013-04-10



Welcome to the community
Can't wait to see some pictures
_________________
USN RETIRED
" />
Admin




Posts

: 346


Join date

: 2013-01-24



Welcome from South Korea!
_________________
MoPar or NO car!



Posts

: 115


Join date

: 2013-02-07


Location

: North Las Vegas



hey welcome. looking forward to seeing your truck

_________________
NO WING NO PRAYER



Posts

: 114


Join date

: 2013-02-05



no hurries no worries ... right on dude! Oh yeah welcome
_________________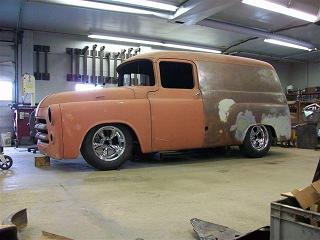 Posts

: 42


Join date

: 2013-02-13




---
Permissions in this forum:
You
cannot
reply to topics in this forum