Bought me a 1946 ton and a half farm truck from Venango, Nebraska. Thank you Dodson Motors. It's big and it's red. Being a simple creature without much imagination that was good enough for me so, "BIG Red" it was named. It came with a 2 speed rear from a parts truck that was set up on the bed to be installed later. I had had a 47 Chevy 2-ton flatbed that didn't have enough gears for modern driving (too many people in a hurry not wanting to wait for me to crest the next hill) so, the 2 speed seemed like a good idea. Feeling optimistic I decided to drive it to it's new home in Vista, California, San Diego County. The truck has the original 228cid L6 with about 34,000 miles. Rear has 6.2 gears. Seemed to like to run at about 45mph. It would take a mild grade without dropping much below 35mph. Good oil pressure, running cool, showing positive charge. All looked well. Made about 100 miles on the 1300 mile trip when I noticed the Amp meter appeared dead. Pulled the light switch on, but no response. Uh oh! Also noticing steering is very tight and getting tighter. This truck has a big steering wheel and I am a 200 pound adult male but I had to really pull on it to get the truck to turn. Next town was Cheyenne, Wyoming about 100 miles up the road. Would we make it? Yes we did! Checked into the La Quinta, (pet friendly) so Big Red could stay too and began looking for generator shop. Friday evening not too many of the scarce generator shops were open. Decide to remove the generator and take it to my home town shop in Oceanside, California, Richer Auto and Truck Electric Co., would then return next weekend to install and continue the drive home. The end of January in Cheyenne is not the best place to work on your truck outside in a hotel parking lot but we old truck owners do what we have to do. Put the truck in storage lot at AAA Self Storage in Cheyenne. Decide on outside storage since I expected to be back next week. We rented a car and with the bad generator in the trunk headed home.

Well a week quickly turned into 6 weeks as I tried to find a friendly body and a time window to drive back to Cheyenne. Finally arranged to drive myself and pickup a friend 2 days later at the Denver Airport to drive my car back. I would drive the truck. Loaded the car with tools, floor jack, oil, grease and water and left Vista at 1:00 am Wednesday morning for Cheyenne. Arrived in Cheyenne 1150 miles later at 6:30 pm. Checked into the pet friendly La Quinta. Next morning drove to AAA Self Storage to bail out Big Red.

It gets cold in Cheyenne. Having left the truck for 6 weeks I worried that the discharged battery may have frozen and split. It appeared okay. Installed generator, primed the carburetor, cranked it up and wow! Started and charged fine. Left it running to charge while I checked out the steering. It didn't look like the King pins had been greased in awhile. Cleaned the fittings. Tried to grease. Couldn't get much flow. Used my little propane torch to heat them slightly while turning the wheel and got some grease into them. Checked the steering box next. Found it almost dry. I think this was the biggest part of the steering problem. It has worm and sector gear. They slide, don't roll. With no gear oil in the box there was a lot of friction. Filled the gear box with 90W gear oil and spun the steering wheel through several cycles. Seemed to work much better.

It was time for a test ride. Drove it out of the lot, paid my bill and headed back to the hotel. All seemed good. It was only 1:00pm. I was picking up my driver at the Denver Airport at 9:00pm. What to do now? I decided to walk back to the storage yard to get the car I had left there. The truck odometer wasn't working. I wasn't sure how far it was. Appeared to be about 5 miles. Decided that was doable. Off I went. Three hours later, tired and dusty, I got to the car. It was about 9 miles a little longer then I hoped. You see a lot more of a town when you walk through it then driving through. I saw a lot of Cheyenne.

Can't get my photo to load will try again with next post.

great story can't wait to read more!

refer to this link for loading pictures....
http://fordodgetrucksonly.forumotion.com/t47-loading-images-here
_________________
USN RETIRED
" />
With BIG Red waiting at the hotel I drove down to Denver and picked up my escort driver. We got back about midnight. Got some sleep. Up at 6:00am to partake of the complimentary hotel breakfast and pack the car. We left Cheyenne about 7:00 am. I wasn't sure of the fuel mileage the truck would get and planned the first gas stop at about 120 miles. The truck has an 18 gallon tank. 120 miles seemed conservative. Got out on I-80 heading west. Listened to all the new noises and vibrations the old truck had. The speedometer and odometer weren't working. All other gauges normal. Good oil pressure at about 35 psig, water temp was about 160 F and amp meter showed slight charge. Got a couple speed checks from the escort driver over the cell phone and began to develop a feel for what was normal. It takes a little while to stop imagining bad things happening with all the new sounds in an old truck. We could roll along at about 47-48 mph. Any slight grade would slow us down to as low as 30 mph. I-80 crosses southern Wyoming east to west. It carries a lot of semi traffic traveling at high speed and car traffic going even faster. The escort driver followed close with 4 ways flashing. The truck was retrofitted with turn signals that didn't work but never had 4 way flashers. For the most part traffic easily moved around us in the left lane. One A-hole driving a semi flatbed with heavy construction equipment passed us on the shoulder at about 70 mph. I didn't see him coming and had quit a shock. I noticed the fuel gauge going down pretty fast from full tank level but figured it wasn't linear at the top end. Made our first gas stop. Filled the truck and dumped the bladder. It took 15 gallons! More then I hoped giving us only 8 mpg. Checked the oil. Still full. That was a pleasant surprise. The 65 year old engine seals were still doing their job. Did note a fuel tank leak when filled. Probably the filler hose connection or sender unit gasket. Headed back out on to the highway and continued west. Next gas stop would be another 120 miles to confirm fuel consumption. The truck continued to run well. Cheyenne is over 6,000 ft elevation. I-80 in Wyoming crosses the Continental Divide twice on either side of the Great Divide Basin. Passes were over 8,000 feet. Lots of long gradual up hill grades. Second gas stop at 240 miles confirmed 8 mpg fuel consumption. Still not much oil use. I couldn't complain the truck was running well at 65 years old. I'm pretty sure it had never been a trip like this before. Another 120 miles and we'd be in Utah. Made 1 more gas stop before entering Utah at about 350 miles. I was feeling good. Salt Lake City was less then 100 miles away. It felt like we would make it. I-80 turns south after entering Utah and has long down hill grades. We were averaging 42-43 mph with gas stops. That was better then I thought we could. Picked up I-215 from I-80. That took us right to I-15 just south of Salt Lake City. This was our planned hotel stop. Another pet friendly La Quinta. BIG Red was happy. I was happy too. It was 5:30 pm. We had driven 420 miles in less then 11 hours. No significant indications of problems and no police![img]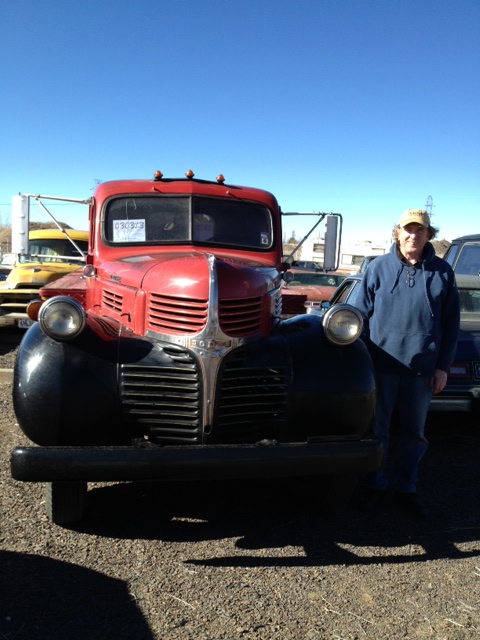 [/img]
It's day 4 of the second attempt to get BIG Red home. This attempt is going well. We are in a La Quinta south of Salt Lake City almost half way from purchase location in Venango, Nebraska, to the trucks new home in Vista California. Today's goal is Las Vegas, Nevada. It's about another 400 miles. Filled the truck with gas and added first quart of oil. Mileage for the last leg shows about 11 mpg. Big improvement over previous 8 mpg. The run through Wyoming averaged about 7,000 feet elevation. Also had pretty big headwinds. 11 mpg is more to expectation. Hope it continues. Headed south on I-15 toward St George, Utah. Beautiful morning. Snow covered mountains on the left. It's Saturday, traffic is light. A smooth drive to the first gas stop. Much better on fuel consumption. Still running about 11 mpg. Next gas stop is at St George. Another smooth drive. Got 12 mpg on this leg. From here to Las Vegas we cross the northwest corner of Arizona and pass through the Virgin River Gorge before entering Nevada and the Casino town of Mesquite. Beautiful scenery throughout. After passing through Mesquite I-15 crosses the desert to Las Vegas about 70 mile drive. It's only about 80 F outside air temperature. The truck is running cool. Should be about 2 hour to Las Vegas. Three miles west of Mesquite the truck shutdown! It was like the ignition was turned off. No sputter, no shudder just off. Coasted to the shoulder. Got as far over as possible. The escort car was carrying my tool box and supplies. Opened the hood of the truck and started investigating. No visual problems. Everything appeared in place. Removed distributor cap and pulled the fan blade to confirm distributor turning. Turned on the ignition switch and confirmed good spark at the points. Pulled the air cleaner and poured in bit a fuel. Hit the starter and got a short run. Okay. Looks like a fuel problem. The Fuel pump has a glass fuel bowl on the inlet side. It was full of fuel and a bit of particulate in the bottom. The carburetor also has a glass bowl at the inlet it to was full with no debris. Popped off the top of the carburetor. The float chamber was dry. Checked the inlet valve wasn't stuck, filled the bowl with fuel and started the truck again. It ran about a minute and shut down again. Okay. Time to look at the fuel pump. It appeared new! Removed the steel line on the inlet and confirmed flow from the tank. I didn't have a spare pump. It was Saturday and getting to late to drive to Las Vegas and try to find one. My escort driver was getting nervous so, I pulled out the insurance policy and called AAA for a tow. They took about 2 hours to show up. We got the truck loaded and headed for AAA approved service shop in North Las Vegas. It was about a 70 mile tow. We got there just a little before the 6:00 pm closing time. It was Saturday. They would not work on the truck until Monday morning. I needed to be home Monday for family commitments. So we pushed BIG Red into the shop. Told him he did good. We weren't mad at him and would see him as soon as we could. Vista was about 300 miles away. We got something to eat, filled up the tank on the escort car and headed for the barn. I've made this drive many times. It would take about 4 hours. No gas stops required. I was disappointed but satisfied too. For a 65 year old original condition truck that had almost no highway miles it was doing great and I couldn't complain. I was sure the shop would find the pump bad, replace it and we would be back to continue our trip the next weekend.[img]
[/img]
_________________
USN RETIRED
" />
man that flat bed on the flat bed. i bet that thing worked hard to get her home

_________________
NO WING NO PRAYER



Posts

: 114


Join date

: 2013-02-05



that's alot of miles for that truck to go
_________________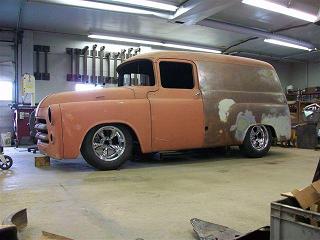 Posts

: 42


Join date

: 2013-02-13



Called the repair shop in Las Vegas Monday morning. Yes, the fuel pump was the culprit. The actuating arm pivots on a pressed in pin. The pin had come out and the pump quite working. The shop put in a new pin and "staked" it in place. I could pick the truck up ant time. We agreed on Saturday morning.

With preparations made, including buying a spare fuel pump "just in case" we left Vista at 3:00 am Saturday morning. The drive to Las Vegas was uneventful. We arrived shortly after 7:00 am. The shop didn't open until 8:00 am so we hit the IHOP for breakfast. After breakfast off the the repair shop. My bill was ready. $185 to remove, replace pin and reinstall pump! That is why I invest in tools and do my own work! Oh well. I was glad to be back on the road for what should be the last leg to home. Paid the bill and went next door to gas up both the car and truck. Barstow is 150 miles away. It would be our next gas stop. Hit the freeway, I-15 south. Drove through Las Vegas marveling at the size and number of casinos on the strip. Las Vegas is about 40 miles from the California border. You pass through June and Primm on the way. We were about 10 miles south of Las Vegas. The truck was running good. Weather was perfect. Clear blue dessert sky and bright sun. Noticed slow traffic pulling up on my left. Glanced that way and saw Nevada Highway Patrol SUV asking me to pull over. Arrrrgh! Last leg to home and being not 100% legal a little concerned what this outcome would be. I pulled over and exited the truck to talk to the officer. He was polite. Said I was going too slow to be safe on that stretch of I-15 and recommended the frontage road to get us to the California border. He didn't ask for any License, registration, or insurance, or did he want to check out the truck for any "deficiencies". I thanked him for "helping" us and assured him we would take his advise. With a sigh of relief and the feeling of dodging a bullet, off we went at the next exit and found the frontage road heading south. It was a good paved 2 lane road took us all the way to June and appeared to continue on to Primm at the border. It didn't! about 4 miles past June the road disappeared in an under freeway culvert and several dirt paths to no where. No option but to turn around and head back to June. There was a gas station there. We pulled in, filled up, got some cold drinks and decided how to proceed. It didn't help that another highway patrol car pulled up to the pumps while I was gassing up. We decided to wait for the officer to depart then get back on the Freeway to make the 10 mile run to Primm. No problems on that drive. It did feel good crossing the State Line and entering the California leg of the trip. I-15 immediately starts a very long uphill grade to "Mountain Pass" at elevation about 4800 feet. It does have a truck lane on the right. We used that, dropped into 3rd gear and climbed the hill at about 25 mph. Didn't ever think we would get to the top but, we did. The truck stayed cool. A long downhill run came next followed by another climb up to Halloran Summit at about 4400 feet. We made that one also. Next landmark was Baker, California, famous for the largest thermometer in the world. It doesn't work anymore but still a landmark. We made Baker at about noon still making good time even though the dirt road excursion put us a bit behind schedule. Next town was Barstow about 60 miles ahead. Thing were looking good. Then, it happened again! The truck quit. No indication of problems just shut down like the switch turned off. Pulled as far off the road as possible and opened the hood. Nothing obvious. Both fuel bowls full. Checked spark good. Pulled the air cleaner. Poured in a splash of fuel. The truck started then quit. Pulled the top of the Carb. Bowl was empty. With a sigh of resignation and a curse for the repair shop, started in on removing the fuel pump. Three wrist burns later (the pump is under the hot exhaust manifold) the pump was in my hand. The actuating arm was missing and the "staked" pin was hanging out from the body casting. Okay. I can deal with this. The spare pump came out of the escort car trunk and was installed in place in about 20 minutes more. Filled the carb bowl, primed the carb and fired it up. Oh the sweet sound of the smooth running Chrysler flathead 6 was music to my ears. We packed up, cleaned up and pulled back onto the road. I thanked my intuition for buying the spare pump and continued on our way. Got to Barstow about an hour later. This would be our last gas stop. Got another cold drink, filled the truck and hit the road for the last run home. I-15 runs through Victorville, makes a long shallow climb to the Cahon Pass summit at about 4200 feet then drops down through the pass into San Bernardino, Riverside, Norco, Lake Elsinore, Temecula, then our exit. Gopher Canyon Road. When we exited at Gopher Canyon it was about 6:00 pm. I knew home was 15 minutes away. This last bit of the trip was the best. Finish line in sight. Trials and tribulations behind. Parked the truck in the driveway. Shut her down and thanked her for an adventure to remember. Hope all your truck trips are this memorable too.
i guess i'm not the only one who talks to their truck. i pat her on the hood or dash and tell her what a good girl she is
_________________
USN RETIRED
" />
rich wrote:i guess i'm not the only one who talks to their truck. i pat her on the hood or dash and tell her what a good girl she is
Im guilty also...

_________________
MoPar or NO car!



Posts

: 115


Join date

: 2013-02-07


Location

: North Las Vegas





Similar topics
---
Permissions in this forum:
You
cannot
reply to topics in this forum